The Sapphire Coast
Cobargo is at the hub of the Sapphire Coast. Within a short drive from Cobargo are –
Bermagui is famous for its deep sea and game fishing – including yellow fin tuna and marlin – and estuary fishing in the surrounding rivers and lakes.
Swim, surf, go sailing, water skiing, kayaking, diving or snorkelling at pristine beaches and safe shallow waterways. Just north of the town, Wallaga Lake is ideal for all types of water sports.
Zane Grey put Bermagui on the international game fishing calendar in the 1930's as the birthplace of game fishing.
Bermagui has its own commercial fishing fleet and the adjacent Co-Op offers fresh fish and prawns daily.
Charter boats operate deepsea, dive and game fishing trips where black marlin and a chase of yellowfin tuna is a regular event.
Surfers have many choices including Beares Beach, Moreheads Beach, Haywards Beach and Cuttagee Beach to catch a wave.
Wallaga lake offers both tribal significance for the Yuin tribe as well as being the largest lake in southern N.S.W.
Don't miss the renowned Camel Rock and other quiet beaches, or a guided tour of the historic Montreal Goldfield.
Trips are also made to Mt Dromedary (Gulaga), Mystery Bar and Mumbulla Mountain. Wallaga Lake and its surrounds give many opportunities for bushwalking and observing wildlife.
On the lake itself there is swimming, fishing, sailing, boating, water skiing and prawning (in season).
Living history, the Tilba National Trust Village.
Home of the Australian 'River Cottage' television series, the Tilba area was settled over 160 years ago. The discovery of gold in 1850 saw people flock to the district and as the gold petered out dairying became firmly established. The village of Central Tilba was established in 1895 and is now classified under the National Trust.
It is a magnet for visitors with its village atmosphere and variety of excellent produce and wares. Stores include a leatherworks, cobbler, bakery, ABC cheese factory, woodturner, toy store, lolly shop, galleries, arts and crafts and a great pub as well as cafes.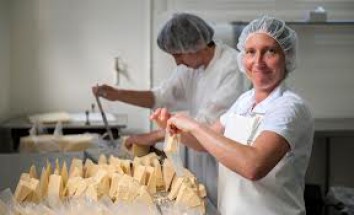 Narooma and Montague Island
There's great ocean, beach, and estuary fishing, a spectacular golf course on the clifftops, world class diving, whale watching and surfing and the trip to Montague Island Nature Reserve has been described as New South Wales' best maritime adventure.
Narooma is home to a fleet of modern charter boats, all operated by experienced professionals.
Full day and half day charters for groups and individuals are available for fishing and diving or just a cruise around the island with a bit of snorkeling thrown in.
A visit to Montague Island is a fantastic experience. Your NSW National Parks & Wildlife service guide will explain the island's intriguing indigenous and European history while you explore the unique lighthouse and historic buildings.
The wildlife is amazing with seabirds, penguins, Australian and New Zealand fur seals, dolphins, and in Spring , the migration of the humpback whales.
Montague Island is also a mecca for fishers chasing kingfish, marlin and yellowfin tuna, as well as many reef species.
Bega is the main commercial centre of the Sapphire Coast, set at the gateway to the rolling pastures of the lush Bega Valley.
Country life includes lazy creeks winding their way through paddocks of picture-book cows, and horses grazing against a backdrop of the darkly forested mountains.
It is prime dairy country, long famous for Bega Cheese and home to the fascinating Heritage Centre detailing the legacies of culture and history.
An historic walk around Bega is available and an intriguing way of stepping back into the past and observing the heritage of the town.
There are a number of local galleries to be explored with an array of arts and crafts available including pottery, paintings and some magnificent wood work
Going further south from Bega, explore the family holiday destination of Merimbula, Pambula and the famous ex-whaling port of Eden.